vacuum drum washer
Vacuum drum washer is a new type of plane valve washing machine. Every week, the washing function of the drum has completed three technological processes of slurry filtration, washing and pulping. It is widely used in pulp and paper enterprises to extract various pulp and bleaching section. The single vacuum drum washer is mainly composed of drum, tank, distribution valve, washing device, pulp stripping device, transmission device and screw conveyor, etc. The series washing machine also has press device and mixing device.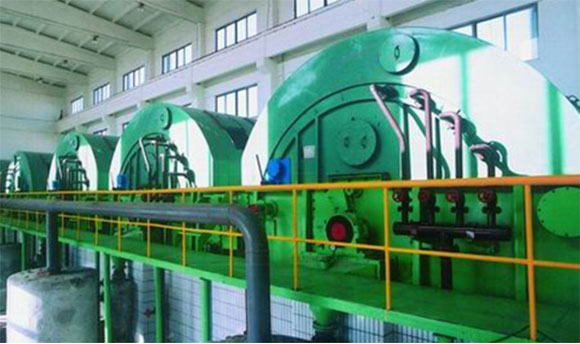 Advantages of vacuum drum washer:
The distribution valve adopts plane liquid film seal to improve the vacuum degree.
Valve core angle adjustable to meet the needs of different types of slurry.
Flat distribution valve covers small area, compact structure and convenient maintenance.
Corrugated filter plate increases the effective filter area, anti-pouring, not easy to "paste mesh."
Main drive frequency conversion speed regulation, reduce power consumption.
Both ends of rolling bearing support, smooth operation.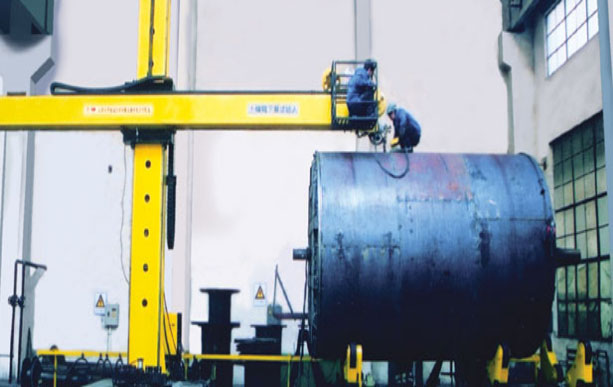 Technical parameter
Suitable for pulp black liquor extraction and pulp concentration after bleaching.
Single unit production capacity: wood pulp 100-600t/d, bamboo reed pulp 75-400t/d, wheat straw pulp 50-180t/d.
Production capacity of series washing machine (black liquor extraction):
Air-dried wheat straw pulp 1-1.5t/m2.d, air-dried reed pulp 1.5-2t/m2.d, air-dried wood pulp 3-4t/m2.d. Vacuum 0.01-0.03MPa.
The pulp concentration is 1.5 to 2.5, and the effluent concentration is 8 to 12%.
Drum speed 0.8-3r/min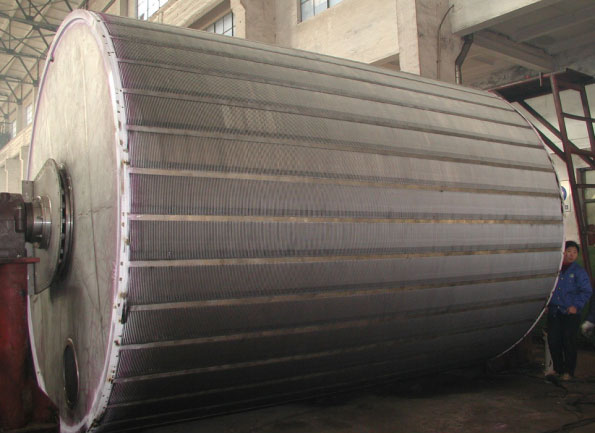 Model /Item
Drum length (mm)
Drum Dia. (mm)
Drum speed (rpm)
Feed Consistency(%)
Discharge Consistency(%)
Capacity( black liquor extraction)(Kt/m2.d)
Straw /Bagasse pulp
Bamboo pulp
Wood pulp
AMXJ35
3200
3500
0.8~3
1.5~2.5
8~12
52.5~87.5
175~210
210~280
AMXJ40
3650
3500
0.8~3
1.5~2.5
8~12
60~100
200~240
240~320
AMXJ45
4100
3500
0.8~3
1.5~2.5
8~12
67.5~112
225~270
270~360
AMXJ50
4550
3500
0.8~3
1.5~2.5
8~12
75~125
250~300
300~400
AMXJ55
5000
3500
0.8~3
1.5~2.5
8~12
82~137.5
275~330
330~440
AMXJ60
5450
3500
0.8~3
1.5~2.5
8~12
90~150
300~360
360~480
AMXJ65
5200
4000
0.8~3
1.5~2.5
8~12
98~162.5
325~390
390~520
AMXJ70
5600
4000
0.8~3
1.5~2.5
8~12
105~175
350~420
420~560
AMXJ75
6000
4000
0.8~3
1.5~2.5
8~12
113~187.5
375~450
450~600
AMXJ80
6400
4000
0.8~3
1.5~2.5
8~12
120~200
400~480
480~640
AMXJ85
6800
4000
0.8~3
1.5~2.5
8~12
127~212.5
425~510
510~680
AMXJ90
7200
4000
0.8~3
1.5~2.5
8~12
135~225
450~540
540~720
AMXJ95
7600
4000
0.8~3
1.5~2.5
8~12
143~237.5
475~570
570~760
AMXJ100
8000
4000
0.8~3
1.5~2.5
8~12
150~250
500~600
600~800
AMXJ105
7450
4500
0.8~3
1.5~2.5
8~12
157~262.5
252~630
630~840
AMXJ110
7800
4500
0.8~3
1.5~2.5
8~12
165~275
550~660
660~880
AMXJ115
8150
4500
0.8~3
1.5~2.5
8~12
173~287.5
575~690
690~920
AMXJ120
8500
4500
0.8~3
1.5~2.5
8~12
180~300
600~720
720~960