blow tank
About blow tank
Our company mainly produces flat-bottomed blow tank. The blow tank of CNBM is made of carbon steel, and the inner layer needs anticorrosion treatment. In order to keep the pulp at a certain temperature in the blow tank, an insulator is added outside the blow tank.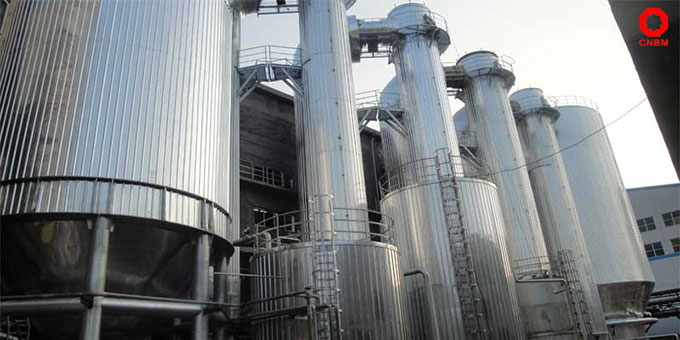 Blow tank working principle
The structure of the blow tank is as follows: the top is a detachable part of the pulp and steam, the middle and lower part is a cylindrical main frame, and the bottom is a flat base. First, the pulp enters with the tangent from the raw material inlet. The exhaust gas is then discharged from the exhaust pipe to the heat recovery system, and the pulp is stored in a blowing tank. The top of the detachable part is provided with a vent valve or safety plate. When the pressure in the tank exceeds a constant value, the valve automatically releases the pressure to keep the tank safe. In addition, there is one or two propellers at the bottom of the blowing tank. When the tank capacity is more than 300 cubic meters, there is usually a large diameter propeller or two small propellers. Generally speaking, it is provided with a cone at the center of the bottom so that the output area is annular, helping to evenly flow and dilute the pulp.

Specification of CNBM blow tank
Size
80m3,150m3,225m3, 330m3, 500m3, 1050m3 series of blow tanks with different technologies;
Materials
Main materials include carbon steel, 316L steel, stainless steel and composite plate, duplex stainless steel structure.
We also can custom any standards blow tanks by customers' requirements
Blow tank advantages
It is equipped with dasher.
With simple transmission, easy to install, operate and maintain.
The price is reasonable, high quality with lower cost.
It requires less space, not take up large places.