2018 Bamboo pulp market supply status and prospect in China
Bamboo pulp is one of the paper pulps, just like wood pulp, it is a kind of paper pulp with a wide range of uses. It is mainly used in the production of paper products in the fields of soft copy and household paper. The fiber shape and length of bamboo pulp are between wood and grass fibers, so the softness, smoothness and toughness of the machine-made paper are also between that of raw wood pulp and straw pulp products.
What is bamboo pulp?
Generally speaking, bamboo pulp is a kind of pulp used for medium and high-end paper products, but compared with wood pulp, its production cost is relatively high. Bamboo pulp is an important substitute for wood pulp on the basis of small domestic wood pulp imports and small forest resources. And the output is gradually increasing. However, the output of bamboo pulp is relatively small, and the production cost is relatively high. After 2011, due to the global economic downturn, the increase in demand for global commercial pulp was mainly contributed by the Chinese market. Low-priced wood pulp quickly entered China, which impact the bamboo pulp market and led to a rapid decline in China's bamboo pulp production. Later, with the development of the domestic tissue paper market and the rebound in global wood pulp prices, bamboo pulp production has improved, reaching 1.91 million tons in 2018.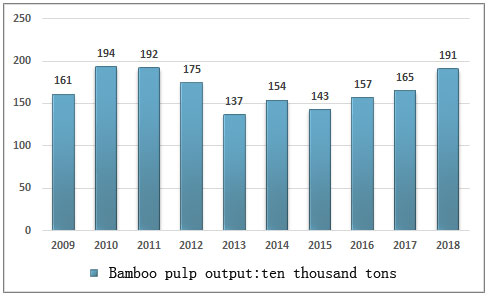 2009-2018 bamboo pulp output in China
From the perspective of import and export, the pattern of bamboo pulp production and trade is mainly affected by the distribution of upstream bamboo. China is the region with the most abundant bamboo resources in the world, followed by Southeast Asia. China's bamboo pulp imports mainly come from Southeast Asia, and domestic imports and exports have always been maintained at a low level, and the export volume has shown a certain upward trend, while the import volume has been at a low level throughout the year. In 2017 and 2018, its import volume was less than 1 million tons.
2009-2018 Bamboo pulp import and export trend in China
Research shows that: from the perspective of domestic market demand, due to the relatively small impact of import and export on the domestic supply and demand pattern, domestic bamboo pulp production is basically domestic supply, and domestic consumption, supply and demand are relatively simple. From the perspective of demand, from 2011 to 2013, domestic demand declined significantly, and after 2013, it showed a relatively obvious upward trend. In 2018, the apparent domestic consumption of bamboo pulp reached 1,907,300 tons. The steady growth in domestic demand for bamboo pulp is mainly due to the increased demand for bamboo pulp in the household paper market.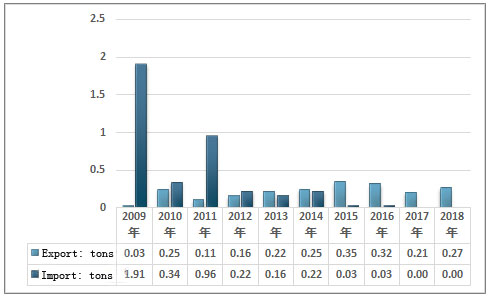 2009-2018 Bamboo pulp import and export trend in China
2009-2018 bamboo pulp demand trend in China
According to incomplete statistics, there are more than 40 varieties of paper produced from bamboo pulp throughout the country, and the three largest varieties of bamboo pulp are household paper, cultural paper and packaging paper. Among them, household paper and cultural paper can be made from 100% bamboo pulp, and its quality is superior, comparable to hardwood pulp products.
According to statistics, in 2013, the demand for bamboo pulp in the household paper field was about 529,000 tons, accounting for 38.63% of the domestic demand for bamboo pulp. In 2017, it had reached 908,000 tons, accounting for 55.1%. In 2018, field The demand for bamboo pulp in household paper is about 1.092 million tons.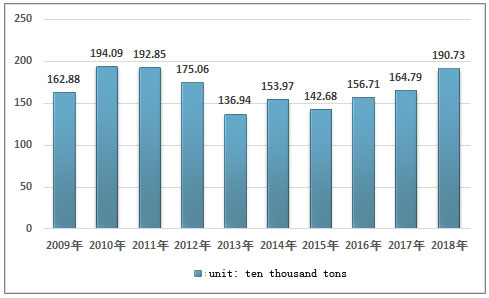 2013-2018 bamboo pulp demand trend in household paper
Tissue paper is mainly a variety of paper products for people's daily life and hygiene. Tissue paper itself has the characteristics of fast-moving consumer goods. At the same time, some products have strong demand rigidity, which is a necessity in life, and the industry cycle is weak. With the increase of residents' income level and the development of health concepts, their demand has also maintained a relatively stable growth trend. In recent years, household paper production and demand have maintained a relatively stable growth trend, while exports have also shown a relatively stable growth trend.
2009-2018 household paper output and consumption
For household paper products, as a product that is used frequently and directly touches the skin, the experience of using the product is very important. The pulp raw materials of household paper are also diverse, and the final use of household paper products made of different raw materials is very different. Generally speaking, in terms of comfort and safety, pure wood pulp>bamboo pulp>mixed wood pulp>straw pulp>recycled pulp.
In recent years, as the income of domestic residents has increased, the demand for household paper products has developed from bamboo pulp to mid-end or even high-end products. The proportion of wood pulp, bamboo pulp, and mixed wood pulp used has increased significantly. While straw pulp and recycled pulp has lost the market in the city, only sold in the countryside.
Recently, the proportion of wood pulp in the domestic paper market in China has reached more than 80%, and bamboo pulp has increased from about 5% in 2012 to more than 10%. The consumption of bamboo pulp in household paper has been increasing year by year, which can be expected bamboo pulp consumption will continue to increase in the next 5 years.
However, the development of the industry also faces certain problems. For example, the pulping scale is significantly smaller, the industry concentration is low, the energy consumption of pulping technology is large, and the technical advantages are not significant, and the industry still has a lot of room for improvement.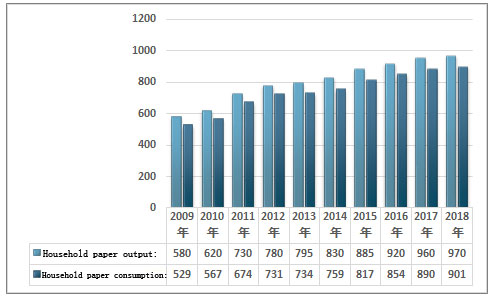 We can offer not only vertical pulper, but also horizontal pulper. Here are the different specifications of pulpers for bamboo pulp making you can refer to.
| | | | |
| --- | --- | --- | --- |
| | Rotary Spherical Digester | Vertical Digester | Continuous Tubular Digester |
| Capacity(dry bamboo chips) | 180-220kg | 220-230kg | 110-160kg/min |
| Liquor ratio | 1:2.4-3 | 1:3-3.5 | 1:2.4-2.8 |
| alkali charge(sodium cyanide) | 18%-22% | 15%-18% | 18%-20% |
| sulfidity | 15%-25% | 16%-22% | 18%-20% |
| maximum cooking pressure(MPa) | 0.55-0.65 | 0.65-0.7 | 0.6-0.7 |
| maximum cooking temperature | – | Around 165 | 165-170 |
| heating method | Direct heating | Indirect heating and direct heating | Direct heating |
| cooking time | 4h | 4-5h | 45-48min |
| brown pulp hardness | 10-18 | 14-18 | 14-18 |
| residual alkali of black liquor | 9-16g/L | 10-16g/L | 10-16g/L |